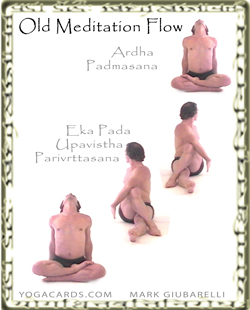 Seated Twist Flow
Straighten the right leg and bring the bent left leg over the right thigh.

Inhale as you unwind and perform the Yoga Postures twist the opposite way.
The right leg is hooked over the left leg so the transition intoHalf Lotus pose is already started. It is often good to choose pose that are close and blend well when doing Vinyasa Flows.


---
Printable Vinyasa Yoga Cards. Click on any of the images to get to printable page.
---

Eka Pada Upavistha Parivrttasana
Targeted Pain Relief Muscle Massage - Relieve pain through applying direct pressure and massaging your trigger points. Apply massager to neck, shoulder, or leg to reduce pain and prevent muscle injury Portable & Lightweight Manual Massager -...
read more
(as of November 17, 2017 5:51 pm - More info

Product prices and availability are accurate as of the date/time indicated and are subject to change. Any price and availability information displayed on [relevant Amazon Site(s), as applicable] at the time of purchase will apply to the purchase of this product.

)
For over 20 years, the Pivotal Therapy System has been used by physical therapists, massage therapists, and chiropractors to treat soft tissue issues related to the spine. By nature, it takes time to slowly re-posture the spine and its soft tissues. ...
read more
(as of November 17, 2017 5:51 pm - More info

Product prices and availability are accurate as of the date/time indicated and are subject to change. Any price and availability information displayed on [relevant Amazon Site(s), as applicable] at the time of purchase will apply to the purchase of this product.

)