Vinyasa Yoga
Down To The Earth Hips
This sequence Vinyasa Yoga flows form Half Lotus to Downward Pigeon pose.

The left arm is outward and the right leg is raised up. The right arm is taken being the body and the elbow is opened to open the chest. Turn the right hip open also. Point the toes, heel or ball points of the toes.



Transition through the Lunge pose into the Crescent Moon. The knee can be hyper extended if it doesn't cause a problem.

Place the hands down and carefully place the left knee down to the left. Align the hips somewhat horizontally and point the chest forward. Use your fingers for extra height.

Exhale down and stretch the arms forward.
The palms can be placed down or pulled back.
Printable Vinyasa Yoga Cards. Click on any of the images to get to printable page.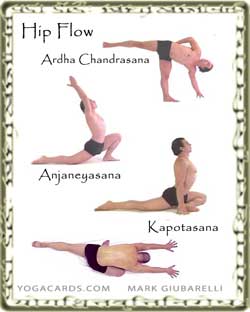 Printable Yoga Card