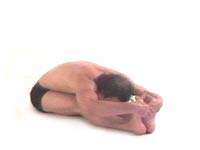 If an expert in muscle imbalance and exercise can be found they will be able to identify the muscles pulling the spine further out and the muscles causing pain saving you expensive diagnosis with hi-tech devices.

The muscles that are acting on the spine in a negative way should be stretched and the muscles involved in stabilizing the spine should be strengthened.

Research has shown that exercises that promote too much flexibility had a negative effect on the curvature of the spine in many cases making it more prone to collapse and instability. Therefore choose more exercises that strengthen the spine and choose light stretches when formulating yoga exercise for scoliosis.

Scoliosis can quite often be identified by viewing someone in a seated forward bend. It does not have to be as deep as the one shown and a mild stretch is preferable. The view shown is diagonal but this test is viewed sideways on each side. When this forward bend is viewed sideways from both sides one shoulder seems raised due to the bones in the spine.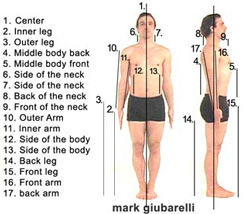 Tadasana is a pose that has many areas that can be measured. When a scoliosis sufferer is in any pose both sides of the torso should be even. Look for one side shortening and try to correct it. For instance areas 12 and 13 shown opposite will be uneven in most poses.
Try to bring an awareness of the length on both sides of your body. This way you can do know harm