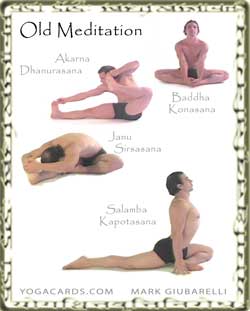 Akarna Dhanurasana Flow
This Flow starts in Half Lotus pose. The left foot is placed over the right thigh. The hands are placed down behind the
back on the mat. The palms can be flat on the mat or you can place the ball points of the fingers down. The hands should be angled so that the shoulders open and don't feel compressed.
Exhale down to a forward bend remaining in Half Lotus with the legs.


It may be a good idea to come down 2 times on your less flexible leg and once on the more flexible leg until they feel balanced. If you didn't want to Flow you could just spend longer on the tighter leg.


The toes can be pointed or pulled back. Some of these Vinyasa Yoga postures show a combination of both.
---
Printable Vinyasa Yoga Cards. Click on any of the images to get to printable page.
---
---

Ardha Padmasana

Akarna Dhanurasana

Paschimottasana
Targeted Pain Relief Muscle Massage - Relieve pain through applying direct pressure and massaging your trigger points. Apply massager to neck, shoulder, or leg to reduce pain and prevent muscle injury Portable & Lightweight Manual Massager -...
read more
(as of November 17, 2017 5:51 pm - More info

Product prices and availability are accurate as of the date/time indicated and are subject to change. Any price and availability information displayed on [relevant Amazon Site(s), as applicable] at the time of purchase will apply to the purchase of this product.

)
For over 20 years, the Pivotal Therapy System has been used by physical therapists, massage therapists, and chiropractors to treat soft tissue issues related to the spine. By nature, it takes time to slowly re-posture the spine and its soft tissues. ...
read more
(as of November 17, 2017 5:51 pm - More info

Product prices and availability are accurate as of the date/time indicated and are subject to change. Any price and availability information displayed on [relevant Amazon Site(s), as applicable] at the time of purchase will apply to the purchase of this product.

)