There are a number of stretches in yoga which can help to balance tight neck and shoulder muscles.

There is also a number of strengthen yoga exercises that can help stability.
---
Causes for neck pain
1. Bad posture is a common cause of neck pain. How is your posture right now?
2. Tension and stress cause the neck muscles to contract sometimes for log periods of time. This is a major cause of neck pain.
3. Neck pain is quite common due to trauma or injury. Accidents involving whiplash neck injury may result in acute or chronic neck pain that takes months or even years to improve.
4. Prolonged overuse of muscles, tendons or discs in the neck area.


5. Pain that radiates down the arm is often a sign that a disc is herniated disc.
---
Neck Muscles Involved
Trapezius Muscles
Scalenus
Sternocleido-mastoid
Semispinalis Capitis
Spinalis Capitis
Splenius Cervicis
Levator Scapulae
By Mark Giubarelli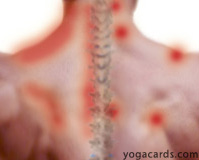 Muscle strain occurs on anterior and posterior muscles during whiplash meaning muscles could be injured on the front or back of the neck. The posterior muscles are much more prone to greater damage during whiplash.
Areas that are most effected by whiplash are neck muscles as well as the mid-back muscles.
Shoulder pain is another very common symptom of whiplash.


The Cat Flow in yoga can often balance the neck muscles when done properly. To do this come on to your hands and knees and inhale as you raise the belly up (tucking the chin to the chest) and exhale belly down (looking forward).