A great source for Yoga Postures by Mark Giubarelli.

Urdhva Mukha Paschimottasana
Translation: Upward Facing Westward Pose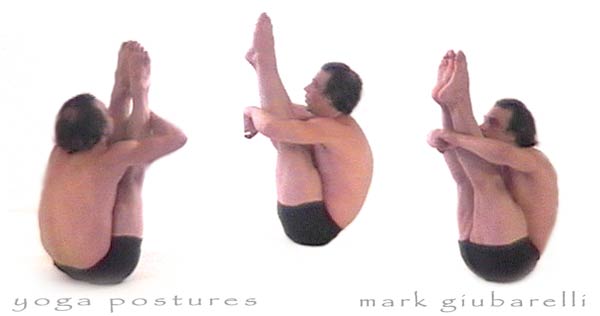 Bend the knees towards the chest.
Wrap the hands around the legs.

Straighten the legs up.

Push through the heels, toes and ballpoints of the toes.
Stretching through the heels will result in a much deeper stretch along the legs and back but extending through the toes stretches tibia muscles and the ankles.
The legs also come down a little more creating more of an angle at the hips.


Tips
Practice this pose against a wall.


Benefits
This is a great hamstring and lower back stretch.

Yoga Teacher Tips
This is a great posture to add to a class for fun. Students are rolling over trying to get in the pose which provides entertainment for everybody.


Vinyasa Yoga Sequencing and Flowing
Vinyasa Yoga postures to transition from and to:

















This variation of the seated forward bend Paschimottasana is both challenging and fun. It may be best to enter it from the boat pose Navasana.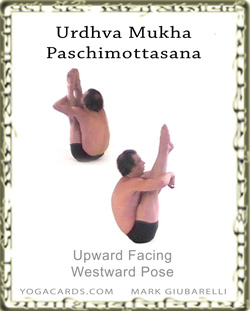 Printable Card



Targeted Pain Relief Muscle Massage - Relieve pain through applying direct pressure and massaging your trigger points. Apply massager to neck, shoulder, or leg to reduce pain and prevent muscle injury Portable & Lightweight Manual Massager -...
read more
(as of November 17, 2017 5:51 pm - More info

Product prices and availability are accurate as of the date/time indicated and are subject to change. Any price and availability information displayed on [relevant Amazon Site(s), as applicable] at the time of purchase will apply to the purchase of this product.

)
For over 20 years, the Pivotal Therapy System has been used by physical therapists, massage therapists, and chiropractors to treat soft tissue issues related to the spine. By nature, it takes time to slowly re-posture the spine and its soft tissues. ...
read more
(as of November 17, 2017 5:51 pm - More info

Product prices and availability are accurate as of the date/time indicated and are subject to change. Any price and availability information displayed on [relevant Amazon Site(s), as applicable] at the time of purchase will apply to the purchase of this product.

)