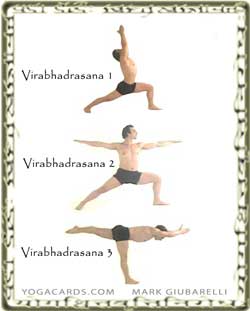 Traditional Warrior&nbsp Vinyasa Yoga flow
This sequence Vinyasa Yoga flows through Warrior 1, 2 and 3.
This can be done in a Vinyasa Vinyasa Yoga flow or in a sun salutation.
Inhale into Warrior 1. The left knee is bent and the chest faces forward in Warrior 1. It is quite often challenging to touch the back foot flat on the mat especially on the outer part. For this reason it may be better to take the legs a little closer.
Exhale into Warrior 2. The hips and body are sideways but the gaze is forward. Tip! Try looking behind at the back arm to make sure its straight then glance at the hip then look forward and down at the bent knee. This way you can spot bad alignment that is obvious.
Inhale and lean forward. Take a half step for an easier transition.
Then hop forward into Warrior 3. Note the eight leg is shown straightened but its best to stay on the same leg because it Vinyasa Yoga flows better.
---
Printable Vinyasa Yoga Cards. Click on any of the images to get to printable page.
---
---

Virabhadrasana1

Virabhadrasana2

Virabhadrasana3