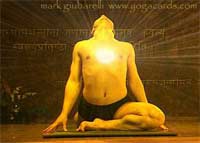 Mark Giubarelli was born in the highlands of Scotland. He teaches flowing vinyasa yoga classes. Classes are gentle but challenging with guided meditation. They are designed to tone and stretch every part of the body. In the mid nineties he was very influenced by B.K.S Iyengar and went on to study with Guru Yogi Ramesh Pandey in Los Angeles. He then moved to Denver in the late nineties after completing a 2 year yoga teacher training course and began teaching.

"Its nice to let the students decide the intensity during class. Flowing through yoga postures is a really enjoyable way to practice. A good meditation is also wonderful to do at the end of class for that illuminating experience to be complete."


After a decade of teaching over 5000 yoga classes he went on to teach various yoga teacher trainings on flowing Yoga in Denver before moving to Maui. To see an example of the flowing yoga click on any of the Sun Salutations below.




Sun Salutation 1Video Clips Sun Salutaton (Win) - Sun Salutaton (Mac) - Click to Enlarge Pic




Sun Salutation 2 Video Clips Sun Salutaton (Win) - Sun Salutaton (Mac) - Click to Enlarge Pic




Sun Salutation 3 Video Clips Sun Salutaton (Win) - Sun Salutaton (Mac) - Click to Enlarge Pic




Sun Salutation 4 Video Clips Sun Salutaton (Win) - Sun Salutaton (Mac) - Click to Enlarge Pic